January 25, 2008
January 15, 2008
Raunchy ringtones
I just got this little video through email at work. The ultra-tall gaijin to the right is a nice touch.
[Update: why did I bother uploading it when I knew damned well I should just check youtube, saves meenu bandwidth]
Posted in Random Debris by: Will at 11:01 AM | No Comments | Add Comment
Post contains 22 words, total size 1 kb.
January 14, 2008
Band meme
Because I had to put the image up somewhere.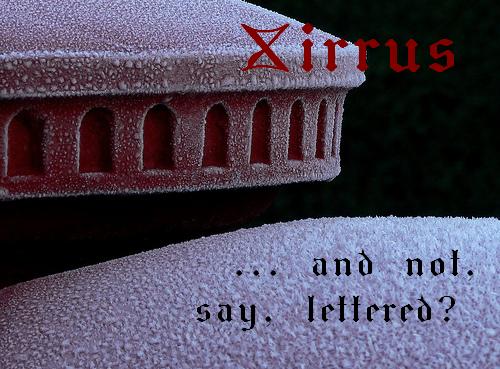 I tried to use a Gothic font, but the crossbars on the t's in "lettered" disappear. Balls.
Posted in Random Debris by: Will at 04:21 PM | No Comments | Add Comment
Post contains 28 words, total size 1 kb.
January 09, 2008
Giving up cold-turkey
About the time I went through two cases in a little less than a week, I knew I had a problem. I couldn't function without it. I felt myself craving it at odd hours of the day, and the effects it normally induced had decreased because of my abuse.
I speak of course about caffeine. Four cans of Pepsi a day might not seem like a lot to some people (I know I'm not anywhere near the addict that some are), but to me it seemed a very unhealthy level of chemical stimulation.
Lunch on Saturday was the last time I had any caffeine. It was no big deal until about 5:30 Sunday afternoon. Usually if I haven't had at least some caffeine by 3:00 pm, I start getting a splitting headache that won't go away until after I go to bed (once the headache sets in, no amount of caffeine or pain-killers will make it go away). But this last weekend something was off. Instead of the normal headache, I just felt really really sluggish. My eyelids weighed a metric ton and my thinking was very foggy.
I decided to take a quick nap, and the next thing I know, it's 9:00 pm and I don't feel one bit better. Nothing felt normal. Quick change into something better for actual sleeping and it's back into bed to shake off whatever's kicking my ass.
2:00 am I'm wide awake and wondering just what the hell is wrong with me. My skull felt like there was an extra 20 psi inside it (but no real pain, just the sensation of pressure) and at the same time I had the sensation that my eyes were trying to suck back into my head (a sensation I get whenever I get a sever fever and a bit of dehydration).
I check my temp, and it's all normal. So I get a glass of water and wait to fall asleep again. Five minutes later whatever woke me up has passed and I crash again until 7:00 am. My head's still packed with wool and it feels disconnected from the rest of my body. I spend all day Monday at work in this state, but I've already figured out I'm suffering withdrawls (though I can't discount that the strange Sunday afternoon may have been brought on by something else already long gone).
The withdrawl symptoms subsided Monday night, and I've been making a point to avoid anything with caffeine. The bizarre part is that it hasn't really affected my sleep pattern at all. I still wake up and go to bed at the same time. I thought I would at least feel tired earlier, but that hasn't panned out.
I guess I'll keep going with this for now, if only as an experiment.
Posted in Random Debris by: Will at 10:11 PM | Comments (7) | Add Comment
Post contains 470 words, total size 3 kb.
22kb generated in CPU 0.03, elapsed 0.064 seconds.
47 queries taking 0.0437 seconds, 124 records returned.
Powered by Minx 1.1.6c-pink.