September 30, 2009
Could this Airstrip be any more Isolated?
I'm back to wandering through Google maps, checking out whatever corner of the map intrigues me at the moment.
So I got to thinking about an old nature show describing the way the Hawaiian island chain is the result of a tectonic plate drifting over a hot spot in the mantle. Google long ago added sonar maps of the sea floor to their offerings. Today I just got to wandering along the submerged chain that never quite broke free of the surface when I panned across
this
.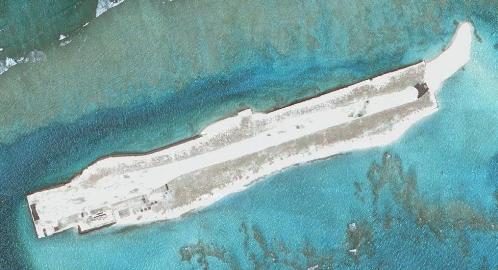 Now the existence of that airstrip is going to bother me until I figure out when they decided to scrape up enough mud to break the surface, and what it was used for.
UPDATE: So, entirely too much surfing at work has answered my question. It's
French Frigate Shoals Airport
on
Tern Island in the French Frigate Shoals
, part of the
Northwestern Hawaiian Islands
. And now I have a
new site to chew up my time
for a while.
Posted in Weird Wide Web by: Will at 11:26 AM | Comments (6) | Add Comment
Post contains 173 words, total size 2 kb.
July 22, 2009
This Guy Obviously Knows this Course Better than his Competition
I must admit, I got a little puckered just watching that. It's surprising how little contact there is for as tight they're racing.
Posted in Weird Wide Web by: Will at 03:45 PM | No Comments | Add Comment
Post contains 33 words, total size 1 kb.
February 18, 2009
July 07, 2008
April 28, 2008
Weird Wide Web - 1
I decided I'm going to make up a new category for the random crap I come across while surfing and leave the "Random Debris" category to more serious subjects (Hah!). Basically I'll just link-dump stuff I find either humorous, cool, bizarre, or some combination of the three.
Today is a monk theme.
Monks chanting the Lotus Sutra (long, with a strange but cool acoustic shift about 7 minutes in, shamelessly stolen from the Hostages).
Which reminded me of another bizarre monk vid I saw at some point (@ Hop Step Jump I think). I think it's a piece of software (like a midi tracker) that allows you to have these "monks" sing various parts and turn it into a song.
The original song is a classic Yuki Kajiura piece. After that, it looks like somebody threw together a choir of anime character impersonators to sing the track.
Less weirdness and more music (video-heavy) beyond the jump.
more...
Posted in Weird Wide Web by: Will at 02:30 PM | No Comments | Add Comment
Post contains 239 words, total size 2 kb.
23kb generated in CPU 0.03, elapsed 0.058 seconds.
46 queries taking 0.037 seconds, 108 records returned.
Powered by Minx 1.1.6c-pink.