December 25, 2007
December 11, 2007
My "Faith" in the Media Falls Every Day
So the Telegraph requested submissions for a revised Union Jack to appease some politician with his panties in a bunch. What they got were mostly jokes.
It's the Internet. What else can you expect?
So here's the winning submission.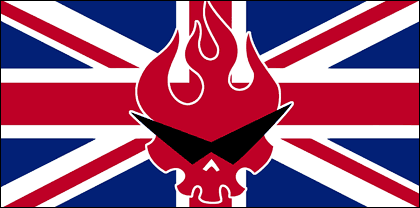 "Flame-haired cartoon dragon" my ass. Don't any of these people do any research anymore?
"It represents shouting "UNION!" and joining together; kicking reason to the curb and doing the impossible; fighting the power, and piercing the heavens," said the Norwegian designer.
My lord in heaven, google any one of those phrases and you're bound to come across an image like this.
Either they really don't get the joke, or they know they've been caught with their pants down and only hope to salvage some small amount of dignity by keeping quiet..
Posted in Anime by: Will at 07:07 PM | Comments (8) | Add Comment
Post contains 138 words, total size 1 kb.
An Update too Big for the Bottom of Previous Post
Gurren Lagann meets the Transformers movie.
There are clips from throughout the show, so you could consider them to be spoilers.
GAR-formers
Oh Geez, another update below the fold.
more...
Posted in Anime by: Will at 12:27 PM | No Comments | Add Comment
Post contains 47 words, total size 1 kb.
December 07, 2007
Two Great Things, Together at Last
It took a while for AMV Hell 4 to grow on me. One of the things that really grabbed me was the song "Welcome to the Black Parade", played during the ending credits.
Now, My Chemical Romance is not the kind of band I would normally find myself listening to. The prevailing opinion of them is that they're an "emo" band, regardless of what the band members may think. To be honest, I probably wouldn't recognize any of their other songs.
"Welcome to the Black Parade" is not a negative song. It sounds negative at first. That is until they hit the first chorus and you figure out that it's nothing of the sort. And that's why I like it.
The theme is carrying on in the face of pain, fear, sorrow, and grief.
That got me to thinking about how well it would mesh with the themes from Tengen Toppa Gurren Lagann.
more...
Posted in Anime by: Will at 11:20 AM | Comments (3) | Add Comment
Post contains 289 words, total size 2 kb.
23kb generated in CPU 0.07, elapsed 0.1158 seconds.
47 queries taking 0.0726 seconds, 114 records returned.
Powered by Minx 1.1.6c-pink.