June 23, 2009
Camping Report - 6/20-21/09
I'm not going to write much about the trip, I'll just cut straight to the pictures.
(picture-heavy below the fold)
We were on the road at about 1:30 and hit Payson about 3. After a quick stop for a Wendy's burger that looked ready to fall apart at a stern glance, we headed up the Rim.
I didn't take any pictures until after we were on the water. Blue Ridge Reservoir sits about 7000' above sea level. The max depth of the lake is about 100' and was about
5' down from that when we were there
.
Friday evening was fairly uneventful. We got setup and settled in without a hitch.
Just before midnight a faint drizzle started up that eventually turned into a solid downpour. It let up after a couple hours, but the moisture induced a lot of fog. Saturday morning, pre-dawn, the lake/canyon was quite a sight.
Eventually the sun burned off the fog, but we still got a little drizzle mid-day.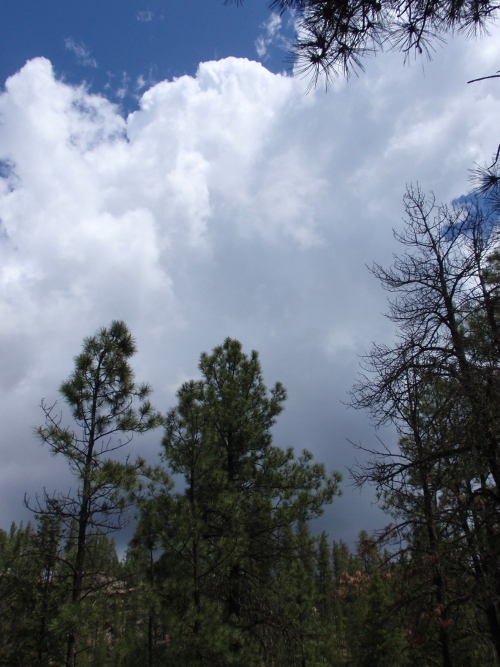 During the middle of the day, while everybody else was off adventuring, I was taking it easy back in camp.
Later in the afternoon, we all hopped in the Port-a-Bote and went for a trip past the dam to the far end of the lake. (The spillway must be a hell of a sight when it's flowing.)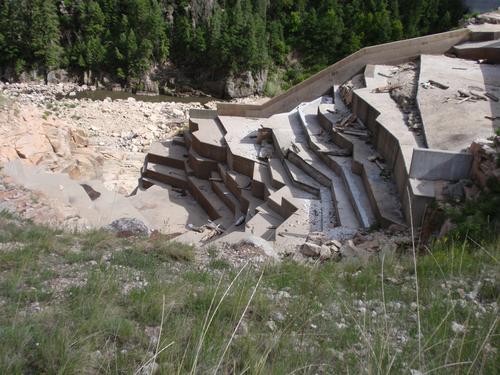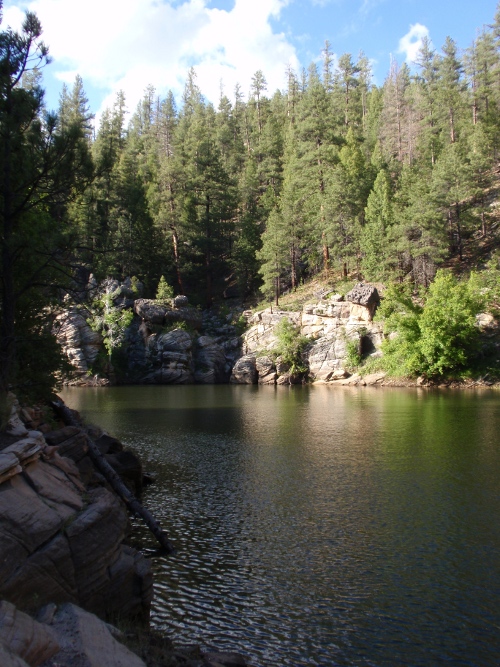 Sunday morning it was time to pack up the camp, load up the boat, motor back to the dock, and stuff it all back in the truck. Somehow.
The End.
P.S.
Here are a couple wide-screen desktops if anybody wants one.
1
2
Posted in Random Debris by: Will at 03:18 PM | Comments (7) | Add Comment
Post contains 269 words, total size 3 kb.
1
Looks like a beautiful place. Those desktops are nice, too, but of course I am contractually obliged to use only space-themed shots for my wallpapers.
Posted by: Mrs. Peel at June 24, 2009 03:32 PM (kTwMy)
2
So I need to some how get some astronomy into my next set of pics? I'll need a tripod, but I think I can manage that.
Posted by: Will at June 24, 2009 06:43 PM (RMeRQ)
3
Cool. Thanks for sharing.
Posted by: Michael at June 24, 2009 08:54 PM (rX6iH)
Posted by: pajama momma at June 24, 2009 09:09 PM (kWQTL)
5
Thanks. It's nice having this kind of place to escape to just a few hours away. The pictures don't really do it justice.
Posted by: Will at June 24, 2009 10:06 PM (RMeRQ)
6
Yeah, around here, our closest state park is a great place to go if you like swamps and alligators.
(Actually, I do like that park. There are several hiking trails, lots of birds, and a nice observatory. I don't like the alligators, though.)
Posted by: Mrs. Peel at June 25, 2009 05:24 PM (kTwMy)
7
I think I'll take black bears over gators.
The lake is really popular with eagles. There are a bunch of trees with giant nest set into the tops. I thought about putting up a lot more pictures of the dam, but I was honestly surprised how little (none, really) security consideration there was.
Posted by: Will at June 25, 2009 08:00 PM (RMeRQ)
Comments are disabled. Post is locked.
16kb generated in CPU 0.02, elapsed 0.0576 seconds.
47 queries taking 0.0418 seconds, 118 records returned.
Powered by Minx 1.1.6c-pink.