June 02, 2009
Campsite Scouting - Hazlet Hollow
Not quite one year ago, we went camping at Hazlet Hollow, one of the campgrounds in the Horsethief Basin Rec Area near Crown King. Just a few days after leaving, some dipshit got lost, set a signal fire, and proceeded to burn half the mountain down. We had heard the campground was spared, but much of the area around it was burned. This last weekend we decided to head up there and see how bad things looked.
(Picture heavy below the fold)
I didn't take any pictures on the way up. This was the first picture of the weekend.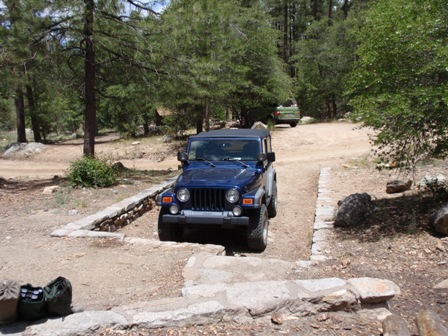 The campground did escape the vast majority of damage. Human vandalism of the various camp structures seems to be the bigger problem.
Climbing the ridgeline behind the campground reveals that the survival of the campground was a close thing. There are single dead trees scattered all about the area, apparently dead of fright rather than any obvious fire damage.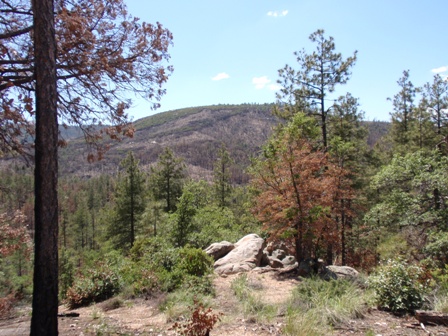 The weather has been unseasonable for the last few weeks. You wouldn't normally see monsoonal development like this until late June and early July. This is the view looking north towards Flagstaff and the San Francisco Peaks.
(
Full size - 4.3MB
)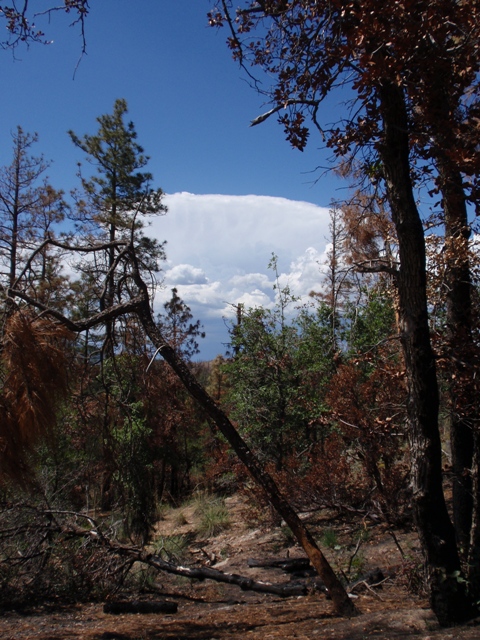 Some areas are dead, but relatively undamaged, just waiting for another spark to set them off.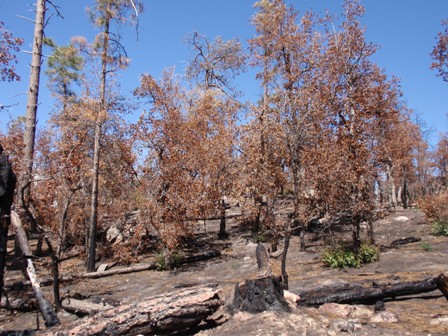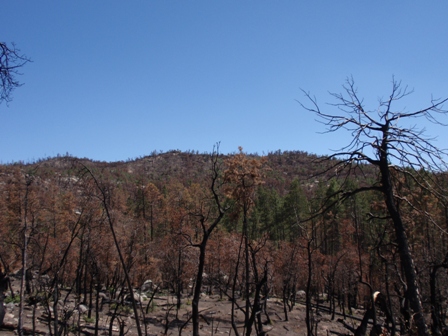 On the way back out, we ran across some local wildlife trying to make the most of things. (
Full-size - 3.8MB
)
If you're having trouble picking them out...
In some of the hottest areas of the fire, not even the grass has made a comeback.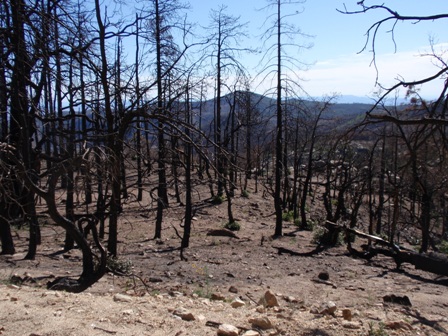 For all the damage, there are still some beautiful vistas to be had. Here's a shot looking east over Bumble Bee and Bloody Basin.
(
Full size - 3.8MB
)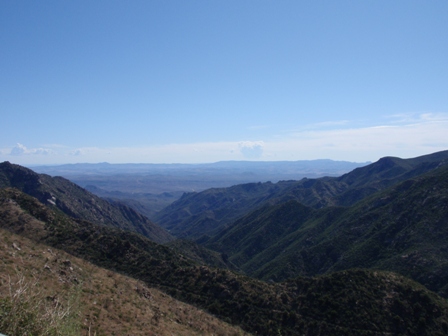 So, long story short, camping at Hazlet is still viable. You just have to drive through a few miles of moon-scape to get there.
Posted in Random Debris by: Will at 11:53 AM | No Comments | Add Comment
Post contains 317 words, total size 3 kb.
Comments are disabled. Post is locked.
13kb generated in CPU 0.03, elapsed 0.0542 seconds.
45 queries taking 0.0404 seconds, 110 records returned.
Powered by Minx 1.1.6c-pink.