February 27, 2008
Baccano! ~ The love-child of Snatch, Pulp Fiction, and the Godfather.
Yeah.. I got nothing at this point... I think I need to go watch that again. This time with lots of notes to keep track of the 45 HOJILLION THINGS GOING ON AT ONCE!!1!!!11eleventy-one!!1!11
*ahem*
Posted in Anime by: Will at 06:43 PM | No Comments | Add Comment
Post contains 46 words, total size 1 kb.
February 20, 2008
God... who knew buying a house and moving would be such a chore?
Well... it's been a long month. Signing is coming up some time next week. I need to get my taxes filed.
But at least I have shows like Minami-ke to keep me sane(?).
There's just so much right in that Nico-Nico... Kana's just loving life and living large... Haruka's a little embarrassed, but otherwise enjoying herself... and Chiaki is completely lost and wondering how she got talked into this little performance.
(This is part of a whole sub-genre of nico-nico videos dedicated to the Swedish caramelldansen.)
Posted in Random Debris by: Will at 09:01 AM | Comments (4) | Add Comment
Post contains 99 words, total size 1 kb.
February 07, 2008
On Moe vs. GAR
IKnight has been working on a series of posts laying out the basic concept of GAR, and it got me to thinking about how Moe and GAR in many cases are opposing sides of the same coin.
Things are going to be a bit disjointed, and I'm sure there will be many things that get left out. I'm not writing a thesis here. Hell, I should be working right now. I'm assuming a level of familiarity with current anime characters, but I'm also going to be working from a set of ideas drawn from this essay. Take a minute or 20 to read through it, because I believe somewhere in the metaphor of the sheep, sheepdog and wolf lies a clearer definition of moe and GAR.
more...
Posted in Anime by: Will at 10:18 AM | Comments (9) | Add Comment
Post contains 532 words, total size 4 kb.
February 05, 2008
Minami-ke ~Okawari Episode 5
Without prior knowledge of the relationship between these three sisters, this episode would probably seem rather strange.
With that said, I spent the better part of this one cackling maniacally at the palpable dread and crescendo of terror and panic Chiaki and Kana experienced as the end drew near. You don't break Haruka-banchou's things and live to tell. Serious-business faces popping up left and right. Fujioka the teddybear-samurai was a bit odd, but what isn't in this show?
It's amazing how much fun a show based on a very simple premise, without any high-tech hardware or magic, can be.
Now for the pictures.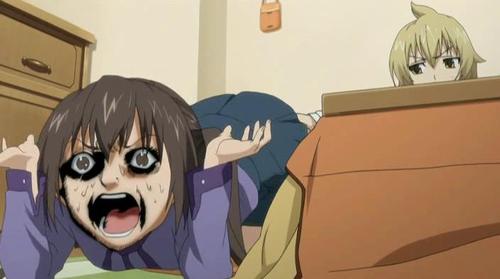 Now that's some horror.
more...
Posted in Anime by: Will at 07:29 PM | Comments (1) | Add Comment
Post contains 195 words, total size 3 kb.
February 04, 2008
While my credit card gently weeps...
Hokay, so I dropped some change this last week on:
1)Vandread, knowing that further delay could mean never getting it.
2)Shingu, because I'm a sucker for a sci-fi story even if the box art is a less than stellar.
3)Planetes, because hard sci-fi has a place in my library too.
I've got my eye on the Haruhi LE bundle, but I'm holding out to for when Robert gets the Gurren Lagann OST in stock to bundle it all up.
Actually, I'm a couple episodes in to Vandread, but not far enough to give an honest assessment of the plot. Gonzo's been real hit-and-miss with the character designs so far. Characters' proportions swing pretty wildly from one scene to the next.
Posted in Anime by: Will at 02:13 PM | Comments (5) | Add Comment
Post contains 126 words, total size 1 kb.
35kb generated in CPU 0.04, elapsed 0.0873 seconds.
49 queries taking 0.0536 seconds, 152 records returned.
Powered by Minx 1.1.6c-pink.