July 03, 2012
Some Aaron Pics
In roughly chronological order.
He was a pretty frowny baby at first.
Thankfully that didn't last.
He even managed some naturally rosey cheeks.
Conked. Out.
Mommy was away on this day, so we got to stay in our PJs extra late.
Sawing every log in the Pacific Northwest.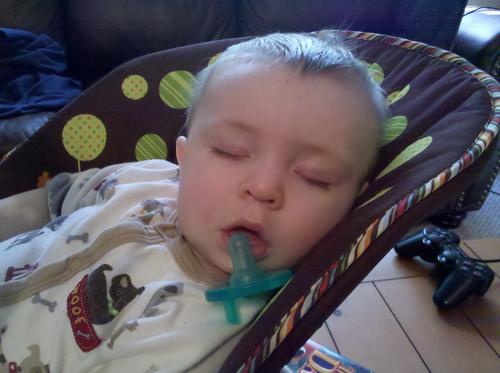 Noticing a theme yet?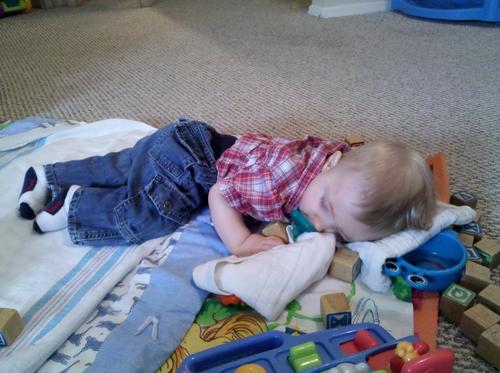 Don't look at me like that. People love pictures of sleeping babies. And you're sporting an epic cowlick, which just demanded photographic evidence.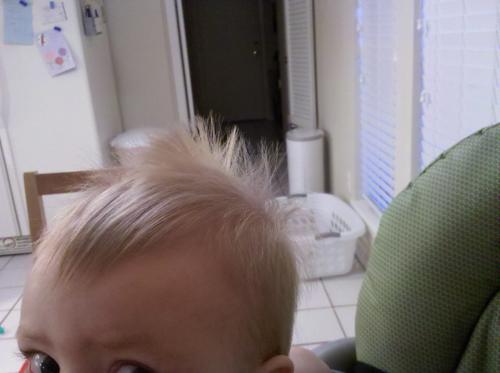 Anyway. That's all for now.
Posted in Random Debris by: Will at 07:19 PM | Comments (5) | Add Comment
Post contains 83 words, total size 1 kb.
1
Thanks, Will!
Hug Peelio for me. He looks good and seems to be growing fast. Has he mastered Greek yet, so you can get him started on Latin?
Posted by: ChrisP at July 03, 2012 07:46 PM (626PS)
2
What a cutie-pie! Hard to believe he is almost a year old already - time flies....
Hugs to you and Mrs. Peel - miss talking to you both online!
Posted by: Teresa in Fort Worth, TX at July 03, 2012 08:35 PM (0xqzf)
3
Aaron looks awesome, Will! Tickle him for me. And Mrs Peel too!
Posted by: Tushar at July 04, 2012 04:40 AM (6bGT8)
Posted by: Kerith at July 04, 2012 07:46 AM (t6wb2)
5
What I meant to say was, OMG! He is gorgeous! Glad to see a post in this place
Posted by: Kerith at July 07, 2012 06:47 PM (WO/B0)
Comments are disabled. Post is locked.
14kb generated in CPU 0.02, elapsed 0.057 seconds.
47 queries taking 0.0413 seconds, 132 records returned.
Powered by Minx 1.1.6c-pink.